A Cloud-native AI platform for subsurface data analysis and modeling
To overcome the challenges for streamlining the insertion of AI technologies into the day-to-day workflow of geoscience, Kognitus developed NAUTILUS®.
NAUTILUS® helps geologists, geophysicists, petrophysicists, and reservoir engineers to quickly analyze large-volume subsurface datasets using the latest cloud computing technology and ML/DL techniques without coding.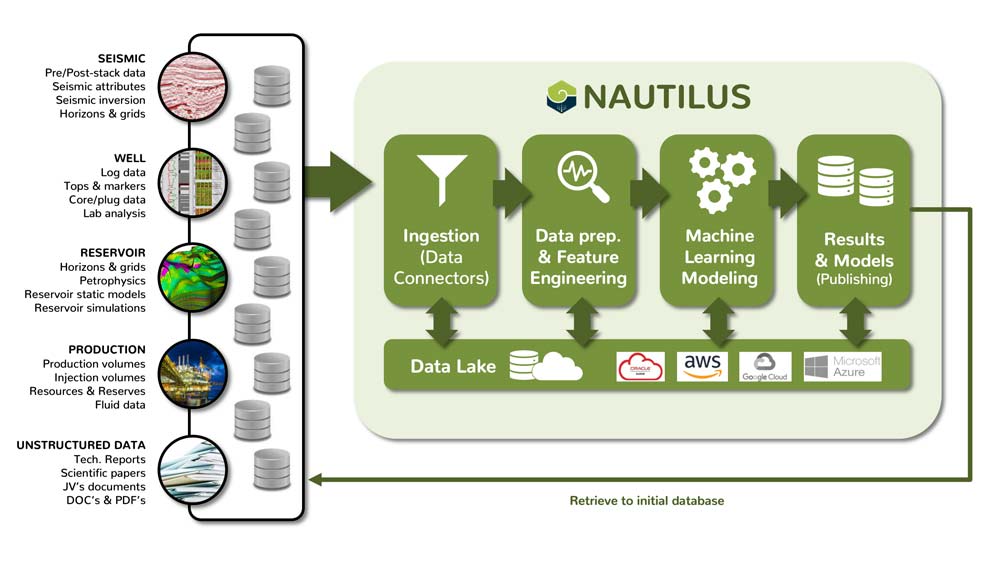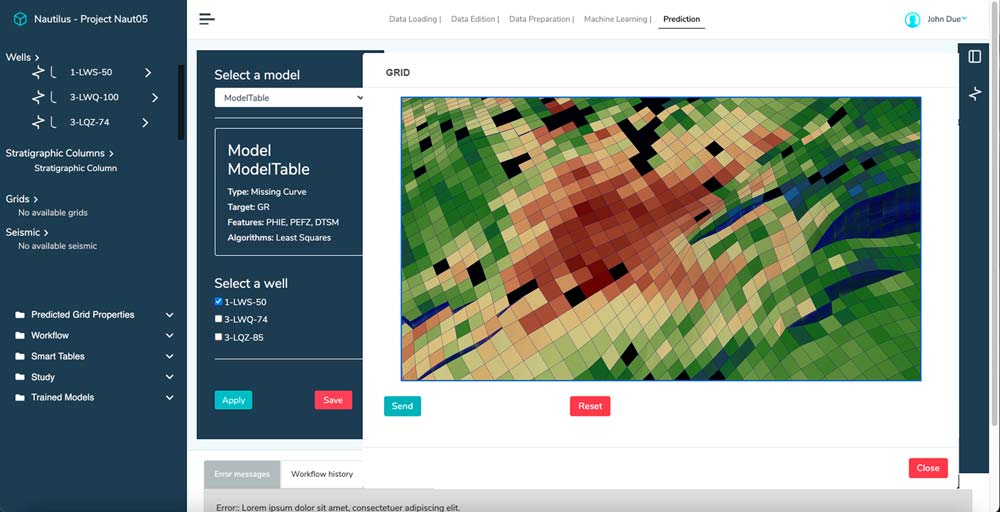 Flexibility and agility to fit a wide range of subsurface applications
NAUTILUS® is a versatile solution with a web interface that can adapt to most geoscience workflows through a modular structure. Users can build their workflow or use a built-in workflow dedicated to a specific domain.
NAUTILUS® can ingest and process data formats for Well, Seismic, and Reservoir Grids through an intuitive interface to empower non-developer geoscientists with the latest AI algorithms. NAUTILUS® can be applied to a wide range of subsurface challenges in petroleum E&P, such as:
Reservoir rock property prediction,

Seismic (faults, horizons, facies) interpretation,

Well log correlation,

Seismic inversion.
Data Integration + Automation + Powerful Algorithms
A series of automated processes facilitate data preparation and algorithm and feature selection. Furthermore, to overcome difficulties in integrating different sources and scales, NAUTILUS® is capable of exchanging, filtering, and merging the various input data into a Unified "Smart Table" suitable for the input of ML algorithms, taking into account the spatial relationship between them.
NAUTILUS® incorporates several standard pointwise Machine Learning algorithms (SVM, XGBoost, Neural Networks, etc..), as well as 1D/2D/3D Convolutional Neural Networks. All combinations of Algorithms/Features can be tested to advise the best solution for a given prediction. Furthermore, the platform saves the entire workflow with its parametrization, which can be deployed over the whole database when a model achieves satisfactory criteria.